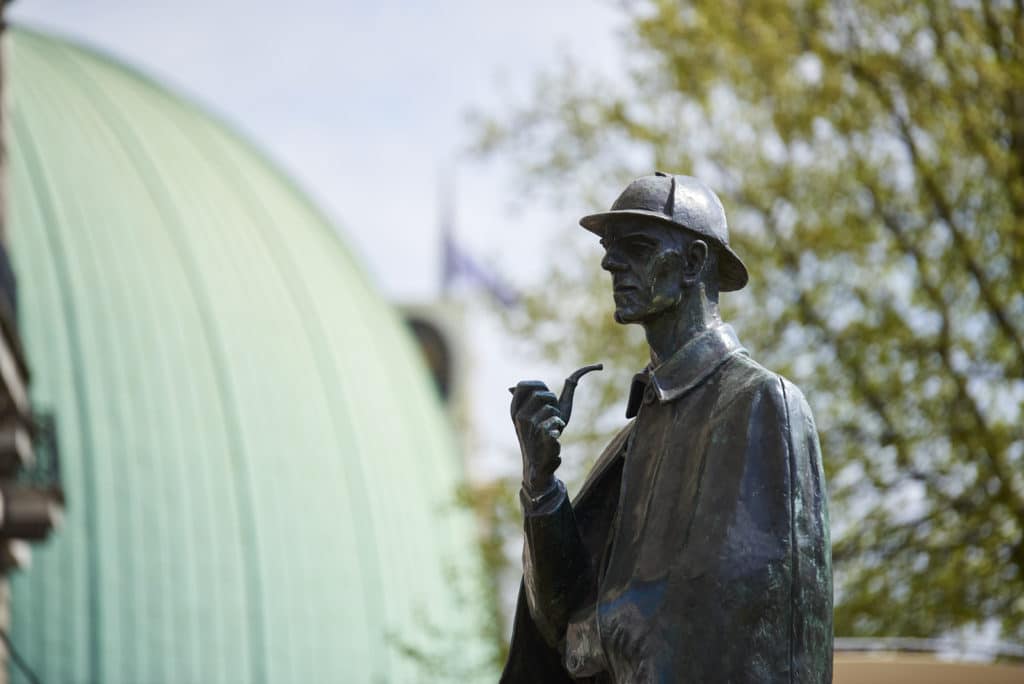 Sherlock Holmes, the most well-known private eye in show business. Usually, the first thing people think of when they hear "Private Investigator."  He made and still makes it look cool to be a private eye.  For those who don't know, a private investigator is someone who offers investigative services to people, businesses or organizations.  Usually, whoever wants to take advantage these services has some uncertainty or something "fishy" that they want to have investigated, and the private investigator does this for a fee.  You may have heard these investigators referred to as private eyes, private detectives, investigators, agents, spies, and sometimes P.I.'s, all of which are acceptable.
Then:
Private investigation has been an age-old occupation in America and began in the 1850's.  Alan Pinkerton, a historical figure in this industry, was the very first private investigator in the United States.  He got his start simply by being a good Samaritan and informing local police of a group of counterfeiters nearby.  He was deputized for his act of valor, and from there decided to become a full-time police officer.  After working in the field for some time, Pinkerton noticed an increase in crime in Chicago and took it upon himself to do something about it.  He opened the nation's first private investigation firm – Pinkerton National Detective Agency – and his services were very popular.  His firm was used by citizens, businesses, and even the U.S. Government.  Pinkerton's company was his legacy and is still around as a subsidiary of global security group: Securitas.
Now:
Private investigation is still a very widely used service in the U.S. today.  Private detectives are used in criminal and civil cases all the time, like child custody, alimony and divorce court cases.  One of the most popular reasons to hire one today is to investigate adultery.  Unfortunately, cheating spouses are a very common topic in the private investigation field, and one of the most lucrative. On a business level, private investigators are sometimes hired by potential investors to make sure the investment group they're about to give money to isn't a pyramid scheme, and everything is legitimate.
So, even though every private investigator isn't as witty and slick as Sherlock Holmes, it is still an important industry, and one of the ones that helped shape our country.