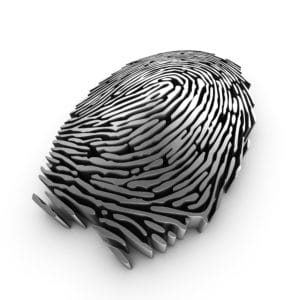 Live Scan Fingerprinting services are our most popular offering at Absolute Investigative, Fingerprinting and Security Services.  We have been a trusted, and reliable source of fingerprinting services in Maryland for over 20 years.  Our service is fast and efficient, no appointments necessary, we welcome walk-ins on any of our scheduled fingerprinting days, at our locations in Towson, MD and Bel Air, MD.
While we offer traditional ink fingerprinting, which  is a little messy and takes longer to process, we now offer digital Live Scan fingerprinting.
Advancements in technology are revolutionizing the process of fingerprinting.  Before Live Scan, ink fingerprinting was the primary method used and each finger had to be pressed in ink, and rolled on the card to make sure the whole fingerprint was visible.  With Live Scan Fingerprinting, there is no ink necessary.
We use our 3M Cogent ® Fingerprinting hardware to digitally scan your fingerprints directly onto one of our secure machine terminals. The Live Scan Fingerprinting technology eliminates the human error that was possible with the old procedure, which consisted of rolling the subject's fingers in the proper amount of ink on the inkpad, then rolling each finger so that the whole thing is clear and visible.  If an error was made in this old procedure, a subject could have been misidentified or unable to be identified.
With Live Scan digital fingerprinting technology the client can just place their finger on the 3M Cogent ® fingerprint scanning device, wait a couple of seconds, and "presto" the fingerprints appear on the monitor clear and quickly.  No need to wash your hands after, and the fingerprints can even be emailed to you or where ever they need to go, to assure they reach the proper processing agency safely.
Live Scan digital fingerprinting technology is 100% FBI compliant and quickly becoming the recommended fingerprinting process for any professional firm or agency.  If you need fingerprinting services in Baltimore, MD. please stop by one of our two locations to have your Live Scan fingerprints captured today.